XHTML 2 und XFORMS
Steven Pemberton, 19. April 2005, 13:00-17:00
Das Deutsch-Österreichische W3C Büro lädt zu einem Tutorial über XHTML 2 und XFORMS ein. Der Referent ist Steven Pemberton, Chairman der working groups XFORMS und HTML. Das Tutorial ist auf Englisch.
Sie finden in dieser Ankündigung:
XHTML2 is the proposed next version of XHTML.
Its aims include:
As generic XML as possible: if a facility exists in XML, try to use that rather than duplicating it.
Less presentation, more structure: use stylesheets for defining presentation.
More usability: within the constraints of XML, try to make the language easy to write, and make the resulting documents easy to use.
More accessibility: some call it 'designing for our future selves' - the design should be as inclusive as possible.
Better internationalization: since it is a World Wide Web.
More device independence: new devices coming online, such as telephones, PDAs, tablets, televisions and so on mean that it is imperative to have a design that allows you to author once and render in different ways on different devices, rather than authoring new versions of the document for each type of device.
Less scripting: achieving functionality through scripting is difficult for the author and restricts the type of user agent you can use to view the document. We have tried to identify current typical usage, and include those usages in markup.
Integration with the Semantic Web: make XHTML2 amenable for processing with semantic web tools.
It also include XForms as its forms technology.
XForms is the new technology that replaces HTML Forms.
HTML Forms, introduced in 1993, were the basis of the e-commerce revolution. After a decade of experience it has become clear how to improve on them, for the end user, the author, and the owners of the services that the forms are addressing. XForms is the new technology, announced in October 2003, that replaces HTML Forms.
The advantages of XForms include:
It improves the user experience: XForms has been designed to allow much to be checked by the browser, such as types of fields being filled in, or that one date is later than another. This reduces the need for round trips to the server or for extensive script-based solutions, and improves the user experience by giving immediate feedback to what is being filled in.
It is XML, and it can submit XML.
It combines existing XML technologies: Rather than reinventing the wheel, XForms uses a number of existing XML technologies, such as XPath for addressing and calculating values, and XML Schemas for defining data types. This has a dual benefit: ease of learning for people who already know these technologies, and implementors can use off-the-shelf components to build their systems.
It is internationalized.
It is accessible: XForms has been designed so that it will work equally well with accessible technologies (for instance for blind users) and with traditional visual browsers.
It is device independent: The same form can be delivered without change to a traditional browser, a PDA, a mobile phone, a voice browser, and even some more exotic emerging clients such as an Instant Messenger. This greatly eases providing forms to a wide audience, since forms only need to be authored once.
It is easier to author complicated forms.
Uptake of XForms has been impressive, with some 30 implementations known to us, including several IE plugins, native implementations, proxies, 'zero install' implementations, a voice-browser, an editor, a validator, and more. Several are from big names, such as IBM, Novell, Oracle, and Sun (in Open Office/Star Office); IBM and Novell are jointly implementing XForms as a part of Mozilla.
As you would expect with a new technology, first adopters are within companies and vertical industries that have control over the software environment used. XForms is being used by many large companies, such as Bristol-Myers-Squibb (pharmaceutical), Hewlett-Packard, Remia (a major Dutch food manufacturer), Frauenhofer (known for MP3), Daiwa (a Japanese Bank), Verifone (a payment company, for configuring petrol pumps), the entire British Insurance industry (via Origo and Polaris), the US Navy (in submarines), UK Government (Planning Inspectorate), German Shipbuilders (for configuring ships), KDDI (a Japanese mobile phone manufacturer, embedding it in one of their phones), NACS (the US National Association of Convenience Stores, for configuring and accessing data from a range of devices) and others.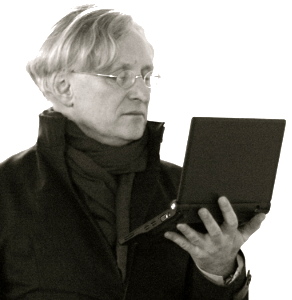 Steven Pemberton is a senior researcher at the CWI, Amsterdam, the Dutch national research institute for mathematics and computer science. He has been involved with the Web from the beginning, organising two workshops at the first Web conference in 1994, and chairing the first Style Sheets Workshop in 1995. He is chair of the W3C HTML and Forms Working Groups, and co-author of amongst others HTML, CSS, XHTML and XForms. He was until recently editor-in-chief of ACM/interactions.

A more complete list of his publications and the projects he participated in is listed at his home page at CWI: http://homepages.cwi.nl/~steven/.
Einführung, (Klaus Birkenbihl)
Tutorial, (Steven Pemberton)
Bilder (Klaus Birkenbihl)
Reports from:
Philipp Lenssen (english)
Garvin Hicking (german)
Andreas Bertram (with photos, german)
Gerd Riesselmann (englisch)
Lars Kasper photos and links.
Die Veranstaltung richtet sich an Webdesigner und Entwickler, die auf dem laufenden bleiben wollen und schon heute Webseiten so entwickeln, dass sie den Anforderungen von morgen gerecht werden.
Teilnehmer:
| | | |
| --- | --- | --- |
| Name | Vorname | Firma |
| Adler | Frank | Allesklar.com |
| Bandholtz | Thomas | Beratender Ingenieur für angewandte Informatik |
| Berger | Ralf | |
| Bertram | Andreas | Fraunhofer IMK |
| Birkenbihl | Klaus | Fraunhofer IMK + W3C.de/at |
| Borries | Babette | CONET AG |
| Braun | Herbert | Verlag Heinz Heise |
| Bünger | Ludger | RealObjects GmbH |
| Caspers | Tomas | |
| Decker | Patrick | RealObjects GmbH |
| Diestelkamp | Eike | HDNET neue Medien, Horvath & Diestelkamp GbR |
| Emde | Jens | denkwerk |
| Fischer | Thomas | denkwerk |
| Flörke | Holger | doctronic GmbH & Co. KG |
| Gerhold | Raimund | |
| Giffeler | Denis | gekko-gesellschaft für kommunikation und kooperation mbH |
| Gläser | Alexander | tops.net |
| Gotzen | Michael | gotzen.net/Werkstatt für interaktive Medien |
| Graubner | Stefan | Dt. Gesellschaft f. Ernährung e.V. |
| Gutsche | Jörg | denkwerk |
| Hamacher | Christian | |
| Hein | Ansgar | anatom5 perception marketing |
| Hermanns | Renate | Firmenpraesenz on- und offline |
| Hicking | Garvin | Faktor E GmbH |
| Horz | Alexander | horz informatik |
| Islas | Carolina | FH Offenburg |
| Janatzek | Simon | Büro für Barrierefreie Bildung und Barrierefreie Webpräsenzen |
| Jendryschik | Michael | VEW online Internet Service Agentur |
| Kahlert | Ralf | VEW online Internet Service Agentur |
| Kasper | Lars | LarsKasper.de |
| Klever | Nik | Fachhochschule Augsburg, FB Informatik |
| Kliehm | Martin | blue mars - Gesellschaft für digitale Kommunikation mbH |
| Koch | Johannes | Fraunhofer FIT |
| Köpnick | Karsten | ESOES GmbH & Co. KG |
| Kunze | Tobias | horz informatik |
| Küper | Ingo | doctronic GmbH & Co. KG |
| Langner | Irene | Wissenschaftliches Institut der AOK (WIdO) |
| Lenssen | Philipp | Bassier, Bergmann & Kindler |
| Mohamad | Yehya | Fraunhofer FIT |
| Müller | Felix | Fachhochschule Offenburg |
| Neurohr | Markus | RealObjects GmbH |
| Niediek | Benjamin | HDNET neue Medien, Horvath & Diestelkamp GbR |
| Oberstein | Nadine | Mediengestaltung & Office-Support |
| Paschke | Peter | Siteprojekte |
| Pemberton | Steven | W3C |
| Perlick | Olaf | Forschungsinstitut Technologie-Behindertenhilfe (FTB) |
| Petzold | Wiebke | Allesklar.com |
| Rattay | Robin | Clarity Services GmbH |
| Riesselmann | Gerd | |
| Rohleder | Peter | Bundesinstitut für Arzneimittel und Medizinprodukte (BfArM) |
| Sahiti | Mentor | concept-computer GmbH |
| Schaller | Jens | Comma Soft AG |
| Scheer | Birgit | Universität Dortmund |
| Scheppe | Kai-Dietrich | T-Online, Intl. AG |
| Schlemm | Gerhard | Comma Soft AG |
| Schmid | Dominik | Bassier, Bergmann & Kindler |
| Schmidt | Catarina | Fade-in webdesign |
| Schön | Brigitte | Schön! web-konzeption und -design |
| Schumacher | Stefan | IT and EDV Management |
| Schwarze | Jochen | cit GmbH |
| Selke | Gisbert W. | Wissenschaftliches Institut der AOK (WIdO) |
| Shields | Tom | Faktor E GmbH |
| Sick | Oliver | GiKOM-CSE GmbH |
| Stegemann | Dirk | Fraunhofer FIT-Life |
| Tikwinski | Thomas | Fraunhofer IMK + W3C de/at |
| Trenner | Wolf-Dietrich | Fördergemeinschaft für Taubblinde e.V. |
| Valerien | Ralf | |
| Velasco | Carlos A | Fraunhofer FIT |
| Wagner | Timo | Kommunikationsdesign für interaktive Medien |
| Wehler | Natalia | |
| Weihe | Harry | BlueOnion |
| Winterling | Dorothea | Universität Mainz |
Die Teilnahme ist - nach vorheriger Registrierung - kostenlos. Die Anmeldung bitte formlos an das Deutsch-Österreichische W3C Büro unter Angabe von: Teilnehmername, Firma, Anschrift, E-Mail, Telefon.

Ludwig Erhard-Raum
Konrad-Adenauer-Stiftung e.V
Rathausallee 12
53757 Sankt Augustin
Wir bedanken uns für die Unterstützung dieser Veranstaltung bei unseren Logo-Partnern:
Doctronic GmbH & Co. KG
Bonn
Um größere Veranstaltungen trotz höherer Ausgaben kostenlos anbieten zu können, bieten wir für solche Veranstaltungen die Möglichkeit, durch Teilnahme an unserem Logo-Partner-Programm auf den Veranstaltungsseiten zu werben. Sollten Sie die Veranstaltung unterstützen wollen und Ihr Logo hier veröffentlichen wollen: Hier finden Sie weitere Informationen über unsere " Logo-Partnerschaft" nur für Kursteilnehmer.
Wir bedanken uns beim
German Chapter of the internet Society (ISOC.DE e.V)
für die Unterstützung bei der Organisation.

W3C und W3C.DE / W3C.AT Das World Wide Web Consortium (W3C) wurde 1994 von Web-Erfinder Tim Berners Lee gegründet, um das volle Potenzial des Webs auszuschöpfen. Dazu werden von den Mitgliedern Technologien (Spezifikationen, Richtlinien, Software und Tools) entwickelt, die den Fortschritt des Webs fördern und seine Interoperabilität sicherstellen. Die sicher bekanntesten sind (X)HTML und XML. Die Empfehlungen (Recommendations) des W3C sind de facto-Standards für das Web.
Das Deutsch-Österreichische Büro des W3C (W3C.DE / W3C.AT) im Fraunhofer-Institut für Medienkommunikation ist der Repräsentant des W3C für den deutschen Sprachraum.
Mitglieder des W3C sind mehr als 350 Firmen, Regierungsstellen, Vereinigungen und Forschungseinrichtungen, die an einem fortschrittlichen, leistungsfähigen und interoperablen Web interessiert sind. (Deutsche und österreichische Mitglieder, internationale Mitglieder)
Klaus Birkenbihl, Deutsch-Österreichisches W3C Büro, Klaus.Birkenbihl@w3c.de, Tel.: +49 2241 14 1972
Deutsch-Österreichisches W3C Büro
c/o Fraunhofer Institut für Medienkommunikation
Schloss Birlinghoven, D 53754 Sankt Augustin
Tel: +49 2241 14-1973
Fax: +49 2241 14-1978
Email: w3c@w3c.de
---
Klaus Birkenbihl, German & Austrian W3C Office (Klaus@w3c.de)
Last revised: $Date: 2005-05-09 13:32:21 $
Copyright © 1994-2004 W3C ® (MIT, ERCIM, Keio), All Rights Reserved. W3C liability, trademark, document use and software licensing rules apply. Your interactions with this site are in accordance with our public and Member privacy statements.